How SERVPRO of Oxnard Extracts Your Home or Business After a Flood
1/6/2021 (Permalink)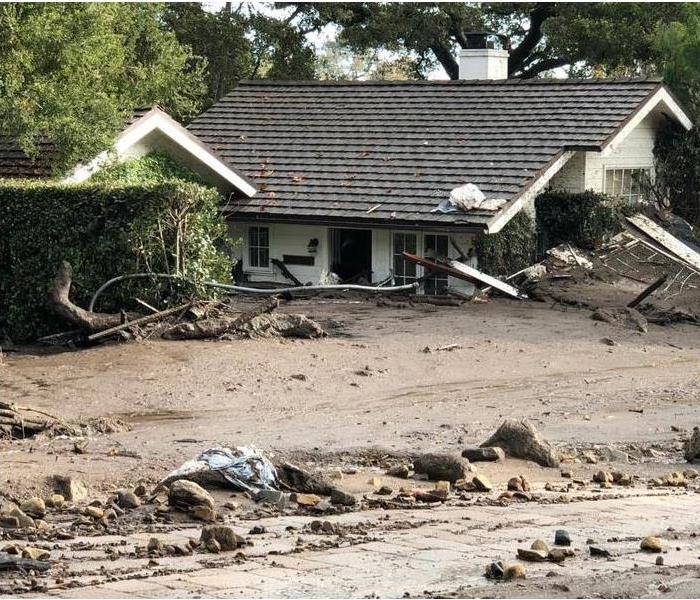 Montecito, California, flood and mudslides damage, January 2018. Credit: Santa Barbara County Fire Department
If you live around Oxnard, you probably know that the region can often get riddled with severe thunderstorms that can bring much rain in a short amount of time. A flash flood storm can cause inches and possibly feet of water to build upon your property outside your house. Once water gets that deep, it could find its way into your structure through a leaking roof or old door or window seals.
Once the water starts to enter your building after a flash flood storm in Oxnard, the liquid H2O could become deep inside your house. If the water gets deep enough inside your home, it could make your residence unsafe and uninhabitable. Luckily, a professional restoration company such as SERVPRO has the necessary equipment to help you get back into your home and even make it seem, "Like it never even happened." During any moisture damage scenario, we always start the restoration process with the extraction phase. Extraction takes place first because it is much easier to remove water while it is still a liquid and before it evaporates into the air and soaks into your building materials and contents.
During most restoration projects, our SERVPRO team conducts the extraction process in two different steps. First, any standing water that is more than two inches deep gets sucked up by a submersible pump and then expelled into a sewer drain such as your bathtub or toilet. If there are several rooms and areas of your house that contain deep, standing water, then we can set up a different sump pump for each negatively affected room. If there is any liquid water present on hard, non-porous floors such as tile or hardwood flooring, we can mop it up or push it into a floor drain with a squeegee.
For water that has soaked into porous materials such as carpet or upholstered items, we can use a heavy-duty extractor with specialized extraction tools attached to it. We can utilize different equipment for heavily saturated carpets or small upholstered items like recliner chairs. Both the heavy-duty extraction units and the handheld Water Claw extraction tools use the weight of the operator to compress the fabrics down so more water can get vacuumed up.
If you ever need help with deep water inside your house after a brutal storm, call SERVPRO of Oxnard at (805) 984-2347 24/7, because We're Faster To Any Size Disaster.
More about Oxnard.