Oxnard Homeowners Love SERVPRO's "One-Stop" Experience for Water Loss Cleanup and Plumbing Repairs
5/26/2019 (Permalink)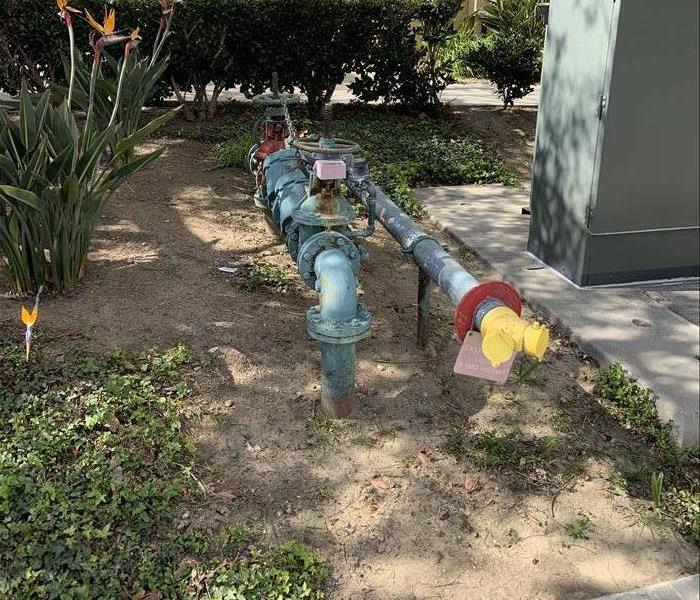 Why SERVPRO? We Extract Water from Plumbing Leaks in Oxnard Homes Even as We Make the Repairs. One Call Does It All!
Repairing Plumbing and Water-Damaged Materials in Your Oxnard Home
We strive to offer a comprehensive approach to recovery and restoration in Oxnard homes and apartments when contending with water loss incidents and damages that can result from them. Addressing the source of this disaster is commonly the first step that we must take when our team arrives at a damaged property, and with causes like burst pipes or plumbing separations, these breaches must get located and repaired for our restoration technicians to find success with mitigation tactics and cleanup.

Our Oxnard team has extensive experience with plumbing and water damage, which can help us to address these impacts and problem areas in your home quickly and confidently. With a crew of contracting experts with years of experience in the building trades including pipefitting and plumbing, we have the tools, and hands-on expertise to replace portions of a damaged pipe or to replace fittings and connections weakened by pressure fluctuations, age, or mineral erosion.

Locating the precise location of this plumbing breach is critical when our SERVPRO professionals first arrive at your property. While there are extraction and drying efforts to contend with to begin recovering the damaged portions of your home, the situation can potentially continually worsen without repairs to this compromised point in the plumbing network. We can utilize auditory leak detection equipment that can determine the approximate location of the break. We also utilize infrared thermal imaging to map out any problematic damp area to ensure complete drying of affected areas.

With a better understanding of the location of the breach, our SERVPRO technicians can utilize controlled demolition techniques to remove only the portions of drywall preventing access to where repairs are necessary. Once exposed, our contractors can remove compromised pipes and fittings and fully replace essential components to help the system run optimally again before the removed drywall gets reinstalled. We know what we are doing. Here are several of our official documents: General Contractor License #: 892710, California State License Board (CSLB) #: 892710.

Restoration companies can share certain approaches or equipment when drying up a water damaged property, but few of them also have the full-service approach that our SERVPRO of Oxnard team does to repair the broken plumbing as well to make this water loss incident "Like it never even happened." For a stress-free "one-stop" cleanup, restoration, and repair service give us a call anytime at (805) 984-2347.
Click for online city services.